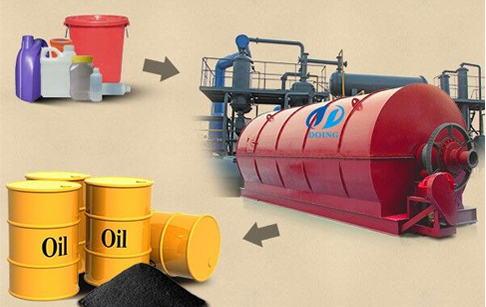 Waste plastic pyrolysis oil equipment
Waste plastics are found everywhere in our daily life and cause serious environmental pollution. But on the other hand, it is also a precious potential energy source, and it is meaningful to deal effectively with plastic waste. To seize this huge business opportunity, DoingGroup has now successfully developed waste plastic pyrolysis equipment. Plastic pyrolysis is welcomed in more and more countries because of his following advantages.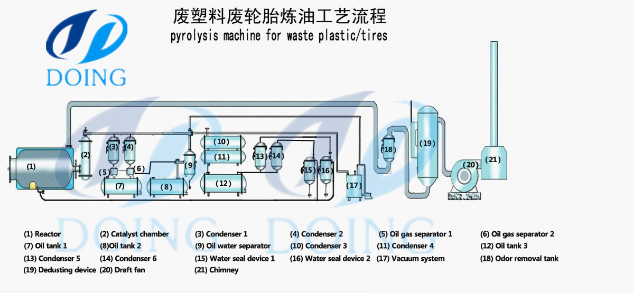 Waste plastic pyrolysis oil equipment working process
A.Waste plastic pyrolysis oil equipment process
Waste plastic pyrolysis oil equipment is waste tires, waste rubber and other impurities into the reactor, the high temperature heating waste tires and plastic catalytic cracking heating, slipping out of oil vapor, oil and light through the light and heavy components separation device, light components Into the condenser, while uninterrupted discharge automatically slag, liquefaction part of the condensation of tire oil, non liquefaction part of the gas purification system through the input heating system combustion.
B.The characteristics of waste plastic pyrolysis oil equipment:
1.Safety
Provide negative pressure device, low pressure, more secure.
2. Environmental protection
Waste gas waste treatment, science and environmental protection will not produce any environmental pollution.
(1) Exhaust gas mainly refers to non-condensable gas, but combustible gas is mainly used for re-combustion of the reactor.
(2) The waste liquid is mainly discharged through the oil-water separator to the waste water sedimentation tank, after a period of precipitation treatment, recycling again.
(3) Slag mainly through the side of the reactor slagging, discharged from the reactor.
C. waste plastic pyrolysis oil equipment Product use: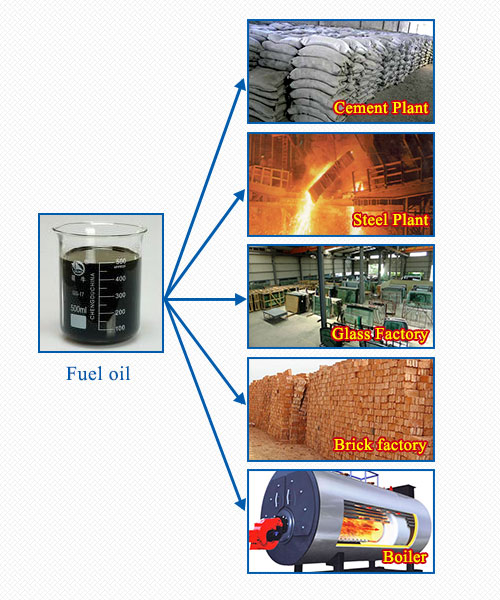 Fuel oil application
1. Fuel oil: mainly used in steel mills, boiler heating, heavy oil generators, cement plants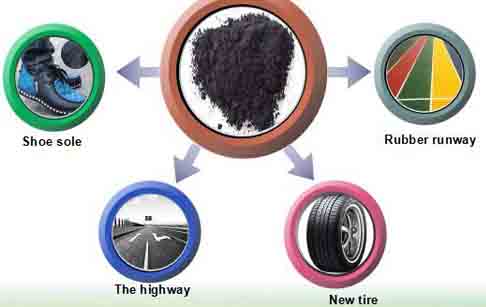 Carbon black application
2. Carbon black: can be used for pressure ball burning, can also be used for refined toner. Refined toner can be used for new tires, rubber soles and pigments.
3. Steel wire: you can scrap recycling, can also be re-cast into other steel products.
Contact: Ms Bonnie
Phone: +86-371-5677 1821
Mobile/Wechat/Whatsapp:0086-135-2669-2320
Skype: bonniezhao2
Email: [This information will show after login with premium membership]