304 grade stainless steel mesh made from 0.9 mm thick wire with 11 mesh pattern is the best security mesh screen (also called crime safe mesh screen) available on the market for secure doors, windows and outdoor areas from intruders and flies, mosquitoes and other pests.
The 0.9 mm thick 304 security screen ensures that it is harder to cut through or penetrate. If you kick at the mesh repeatedly, you can not break through it, but you will injure yourself. This heavy duty 304 mesh with black power coated has more anti-corrosion function.
Apart from high strength and anti-corrosion, the black 304 stainless steel mesh has other two important benefits. First, if you are in the room, it gives you a clear and unobstructed view of the outdoor, but viewers can not peep your privacy from outside. Second, as a security screen mesh, it allows the free flow and circulation of fresh air for your comfort.
Specification:
Material: stainless steel grade 304.
Wire diameter: 0.90 mm.
Mesh hole opening: 11 mesh × 11 mesh.
Surface treatment: black powder coated.
Color: only black color.
Standard size: width 750/900/1200/1500 mm × length 2000/2400/3000 mm.
Guarantee: ten years.
Other mesh sizes available according to customers' need, but not in stock:
10 mesh × 0.9 mm, 10 mesh × 1.2 mm, 12 mesh × 0.8 mm, 12 mesh × 0.7 mm, 14 mesh × 0.7 mm, 14 mesh × 0.6 mm.
Package: 5 pieces in one carton box, then 10 carton boxes in one wooden case; or 25/50 pieces per wooden case.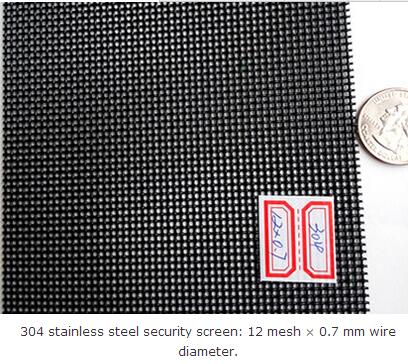 Benefits and Features
Black coated stainless steel bulletproof security screen resist from corrosion.
Quality meets Australia standard, pass knife test, impact test, and jemmy attack test.
Very easily to install into the Aluminium profile with flat and straight surface.
Equal wire tensile strength, wire diameter and mesh size, keeping air circulation & high quality daylighting.
Saves energy by reducing need for air conditioning.
Able to block an average of 60% of harmful UV rays.
Protection and peace of mind.